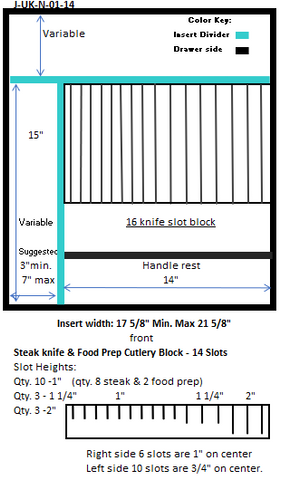 JOPLIN - Cooking Utensil & 16 Slot Knife Storage: Narrow Width
Features:
Craftsman Series - Cooking utensil with cutlery knife storage organizer available in 3 wood choices. 

 

(Click to View Wood Color)
Maple hardwood block for food prep & steak knife combo block.
16 slots (3-2", 3-1 1/4", 2-1" deep slots for food prep knives. Plus 8-1" deep slots for steak knives). (Click for slot side view) Includes handle rest 1 1/4" high. Food prep slots all 1" on center layout, steak knife is ¾" on center layout. Slots are 1/8" wide.
Clear coat butcher block finish on all parts
Simple Installation:
Drawer Interior Dimensions: 
Just choose your drawer interior Dimensions (I.D.) in the Drop down list boxes. There is a whole number box and a fraction number box for each. If your number is whole only (no fraction) then choose Even in Fraction box.
Min/Max Width range -  17 5/8" - 21 5/8"
Min/Max Depth range - 15" - 21"
Height minimum - 2 1/2" (see below for Insert Height Min/Max)
1/16" will be subtracted from your width & depth provided dimension(s) for easy drop in install.
Insert Min/Max height
Drawer interior hgt. - 3 7/16" & over = Max hgt. 3 3/8" (3/8 thick bottom)
Drawer interior hgt. - 2 3/4" to 3 13/32 = Drawer Interior Hgt less 1/16" (3/8 thick bottom)
Drawer interior hgt. - 2 1/2" to 2 23/32" = Drawer Interior hgt. less 1/16" (1/4 thick bottom)
Drawer interior hgt. - less than 2 1/2" = Unavailable
---
---
We Also Recommend